IAC BOWLING: SVEC SWEEPS EDISON IN SEASON OPENER
(2021-11-23)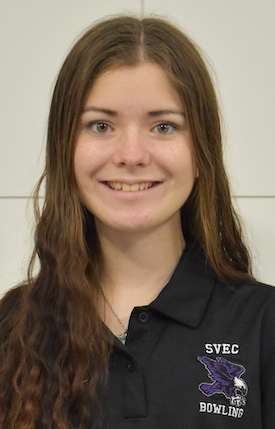 Tioga County Sports Report
OWEGO — The SVEC bowling teams opened the season with a sweep of visiting Edison at Owego Bowl here Tuesday, the boys and girls squads each posting 4-0 victories.
BOYS
SVEC 4, Edison 0
Edison's Zack Crown had the hot hand, but SVEC utilized its depth to pick up the win.
Garrett Lindhorst rode games 194, 191 and 187 to a 572 series for the Eagles while Aiden Jackson posted the team's high game, a 215. He finished with a 509 series.
Kody Floyd contributed a 170-488, Matt Fitch scored a 192-475, Tyler Dunham had a 170-453 and Jason Tufarella added a 108-321.
Crown rolled a high game 268 for the Spartans to put together a 632 series. He also had games of 186 and 178.
Logan Card shot a 210 and 207 en route to a 586 series to help the Edison effort.
SVEC won by scores of 810-769, 751-746 and 941-761 and took the total pinfall, 2502-2276.
GIRLS
SVEC 4, Edison 0
Olivia Bennett was a model of consistency while Janelle Marsh recorded the high game as the duo paced the lady Eagles' triumph.
Bennett recorded 189, 188 and 190 to finish with the high series, a 567. Marsh had the high game, a 206, which highlighted her 533 series.
Kaitlyn Floyd pitched in with a 180-436, Calli Marsh had a 119-332, Phebe Jackson added a 137-318 and Elly Hatton tacked on a 281 series.
Edison had just three bowlers and was led by Leah O'Connell with a 129-315.
The SVEC teams visit Tioga Nov. 30 at the Waverly Bowling Center at 3:30 p.m.
——————
IN PHOTO 1: SVEC's Olivia Bennett. ... PHOTO 1 BY CATHLEEN DOANE. ... PHOTOS 2-9 BY TIM TAYLOR.