TAYLOR MADE: AND THE 'GIBBS SLAP' GOES TO ...
(2021-11-18)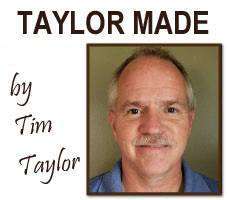 The last few weeks have been interesting, to say the least, and right now I have a few things I just need to unload. If you wish not to experience the latest rant from my soapbox, then now would be the time to move on to the next item on your agenda. Otherwise, let's start off with my own personal blunder, which is the reason for the title of this piece.
If you've watched the TV series NCIS, you know what I'm referring to here.
OK, so somewhere online I saw that Owego would be playing its volleyball subregional last week against Hendrick Hudson at 6 p.m. Had I checked the NYSPHSAA website I would have seen that the match started at 4 p.m.
Needless to say, I arrived to an empty gym at Hen Hud, thus making a 7-hour, 375-mile round trip with nothing to show for it (thanks to Frank Becerra Jr. of
The Journal News
to providing a few photos).
Guess who will remember to double-check dates and times from now on?
By the way, Hendrick Hudson, which knocked Owego out of the Class B state tourney, downed New Paltz, 3-0, in the regional final. Both the Indians and NP totaled the same amount of points — 46 — in three-set matches. The Indians graduate one player and the Sailors bid farewell to two. I'm smelling an exciting regional final next fall.
——————
A PLUG FOR THE LOCAL PITCH PEOPLE
The Skaneateles boys soccer team, which defeated Owego, 2-1, in overtime in a NYSPHSAA Class B regional, went on to repeat as state champion, defeating Westlake, 2-1, in the semifinals and Bath Haverling, 2-1, in OT in the championship game.
In girls soccer action, Bronxville, which bested Section IV co-champion Chenango Valley, 3-0, in regional action, went on to shut out Saranac, 3-0, and Lewiston-Porter, 2-0, to grab the Class B crown. The Warriors and Owego tied, 0-0, for the sectional title with CV outshooting the Indians on penalty kicks, 5-4, to advance to the state tournament.
——————
WHAT A KICK IN THE PANTS
The penalty kick. Could there be a worse way to determine the winner in a soccer match? Especially when it's a game that decides who advances to the state tournament.
Think about it. How many times do we see a game decided by a penalty kick? It's actually less than 10 percent, much less. I say let them play until a winner is decided.
Or, how about sending the team which lost the tie-breaker on to the state tourney as a wild card? If they can do it with the state football playoffs, certainly it wouldn't be that difficult to incorporate it on the pitch as well. Every classification except Class D was set up with a 16-team bracket for subregionals yet five teams get a bye, so there is clearly room to toss in a couple of extra teams that have proven they deserve a shot.
Of course, New York's postseason system for team sports is bogus — pitting teams based on geographic location instead of trying to seed them.
——————
SPORTSMANSHIP AT ITS FINEST?
In my 30-plus years covering high school athletics, I've witnessed hundreds of unsportsmanlike actions from adults, but what occurred during the Owego-Chenango Valley girls soccer playoff was truly shameful.
As mentioned before, Owego and CV went to penalty kicks to decide which team would represent the section the state tournament. As the first Owego player set up to attempt a PK, I heard a voice behind me go "miss." I turned around to see that it was a man who appeared to be at least 40 years old. He proceeded to comment each time an Owego player prepared to kick.
What's sad is this is the type of behavior you might see from a high school teen — NOT a grown man! How very pathetic.
——————
SOMETHING ISN'T RIGHT!
The first order of business for the Section IV football committee following the end of the 2021 season should be to fix the current playoff system. No team should be allowed to have home field advantage for a sectional championship game.
There are several artificial turf fields in the section, so securing a neutral site should never be an issue.
Owego at M-E could have been played at U-E or Vestal. Waverly at Chenango Forks could have been played U-E or Vestal as well, or even at M-E. Elmira at Corning could have been played Saturday afternoon at Horseheads. U-E at Horseheads could have been played at Waverly.
Just sayin' ...
Don't even get me started on how M-E was allowed to get it's forfeited victories back for using an illegal player.
——————
SO YOU THOUGHT YOU DODGED IT
Wrestling was one of the few high school sports unaffected by COVID-19 in early 2020.
Grapplers aren't going to be so lucky during the 2021-22 season — as the first victim has already been selected.
Organizers of the Eastern States Classic, one of the most prestigious and grueling tournaments in the northeast, was canceled Wednesday due to concerns about rising COVID cases.