IAC WRESTLING: NEWARK VALLEY SEEKS TO BE COMPETITIVE QUICKLY
(2021-11-17)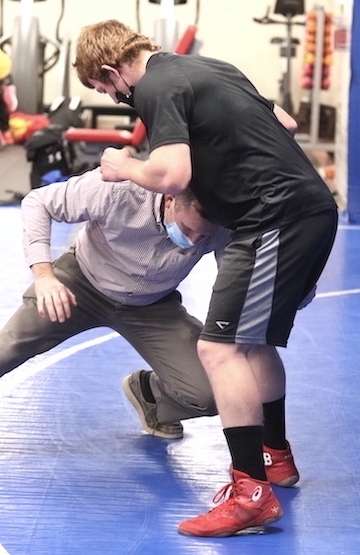 By TIM TAYLOR
Tioga County Sports Report
NEWARK VALLEY — Last season, New York changed its state wrestling tournament qualification guidelines and it turned out to be a well-suited move for the Newark Valley squad.
Unfortunately, COVID-19 spoiled potential trips to Albany for the likes of the Cardinals' big guys — Cam Carrier, Josh Duke and Joey Woodmansee.
That trio has graduated and the heir apparent to NV's upper weight throne has been lost to an injury.
So where does that leave the program?
"Young, yeah, very young," coach Mike Daly said. "We unfortunately lost one of our top returners to an ACL injury, one of our seniors, Connor Jacobson, in football, so that hurts. We expected him to be top two or three in the section."
"Now he's out, so that hurts, but we do have limited numbers of juniors and seniors, but the ones we have are solid kids, good kids, and here to work and hopefully show the younger (ones). We're definitely a younger team made up of a lot of freshmen and sophomores, so that's bright future, but we really don't want to look at the future. We want to win, get some winning done this year."
Although the Cardinals may be down, they're not out as Daly has a close couple dozen grapplers in the wrestling rooms. That's rooms, as in plural, as COVID forced the district to convert the high school wrestling room into cafeteria space, so practices are being held in the elementary and middle schools.
Those numbers are about the average for the Cardinals.
"Historically, yes," Daly said. "The last couple of years we've been lower than that and we got down to like 14. Since I've been here it's probably the best number that we've started with.
"It's not what you start with, it's what you finish with, so hopefully we've got a group that will stick it out and do the right things."
NV opens the season Dec. 4 hosting the 28th Annual Larry Goodrich Tournament.
——————
PHOTOS BY TIM TAYLOR.