STAC BOYS BASKETBALL: OWEGO LOOKING FOR SUCCESS AMID CHALLENGING SCHEDULE
(2021-11-16)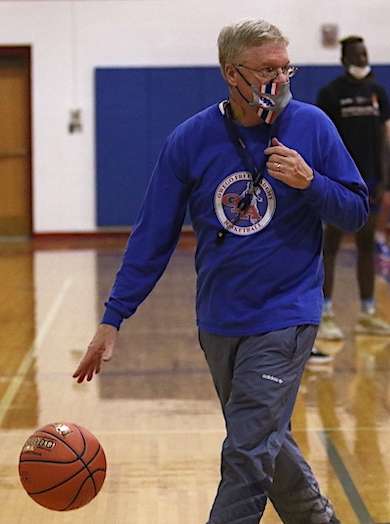 By TIM TAYLOR
Tioga County Sports Report
OWEGO — The Owego boys basketball team graduated some key players following the COVID-shortened spring campaign, but return some contributors as well. And coach Chris Evans has been around long enough to know not to make any bold predictions one way or the other.
"It's the first night," he said while watching Monday evening's practice. "I mean, the kids have been playing a lot, obviously in the off-season, so I'm cautiously optimistic. We play another tough schedule. We open at Ithaca, a couple of tough ones here and the Charlie Sibley Memorial.
"Hopefully the scrimmages — we're scrimmaging Vestal, we're scrimmaging Maine-Endwell. Watkins Glen has always had a good program, so we have some good scrimmages under our belt, but I really don't know."
I think by what I see in the off-season, it was terribly, terribly inconsistent. They will show a lot of good things for a while and then all of a sudden, for five minutes, some of them are like they've never played the game before kind of thing. That's something that we have to get better at and I'm spending a lot of time showing a lot of video and I trying to teach, trying to educate."
The Indians bring back some height this season, which Evans is hoping will be a plus.
Junior twins Joe and John Bangel were listed at 6-foot-5 and 6-3, respectively, on the spring roster and classmate Ryan Pryor was 6-2. Seniors Hunter Ellis (6-2) and Brad Palmer (6-1) add height as well.
"Obviously it will help," Evans said. "I mean if they stay in the game, they don't get in foul trouble and if they affect the game all the time. It's a new world when all these kids that you have on your team, John, Joe, John Larter, Drew (Tavelli) to a certain extent, Brad (Palmer) to a certain extent, who play in the summer time. Sometimes they play in different programs with different coaches, and all of a sudden, sometimes you develop good habits, but quite often develop bad habits too. So that's something that sometimes works against us, and it's something that we have to work out in practice every single day."
Owego opens the season Dec. 2 at Ithaca, then hosts Tioga Dec. 4 in the 1st annual Charlie Sibley Memorial Basketball Tournament.
The Indians and Tigers opened the spring season against one another and Evans is looking forward to playing Tioga again.
"We get to see how much they've improved and see where we are, and I wanted to make sure that two Tioga County teams at least played once in that Sibley classic because Charlie meant so much to everybody, including people at Tioga."
——————
NOTES:
Sibley, who worked with both the boys and girls programs at Owego, and donated a lot of time and money at the Tioga County Boys & Girls Club, passed away Aug. 24, 2020, following complications from a stroke. The tournament in his honor will feature two days (Dec. 4-5) of boys varsity and JV action as well as games on the first day involving the Owego and Union-Endicott varsity and JV girls.
——————
PHOTOS BY TIM TAYLOR.