STAC WRESTLING: REBUILDING OWEGO LOOKING TO GAIN EXPERIENCE
(2021-11-16)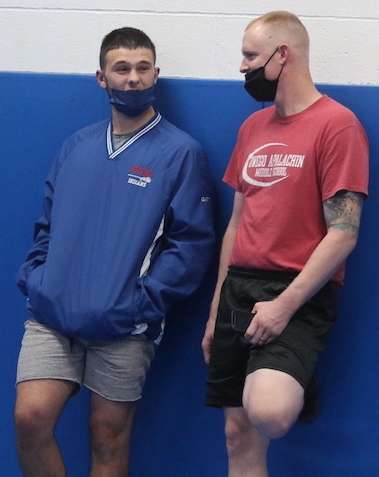 By TIM TAYLOR
Tioga County Sports Report
OWEGO — The Owego wrestling team isn't expecting to go out and dominate on the mats this season, but it is focusing on gaining much-needed experience.
Coach Nick Rodgers lost his top grappler, 2020 state bronze medalist Cam Bundy, along with a handful of others, leaving the Indians with a relatively inexperienced roster.
"We have a lot of new guys," Rodgers said. "We're working on a lot of basics. We want to make it fun, teach the fundamentals of our program and try to develop our younger guys."
Most notable among the returnees are senior Matt Gatto, who is currently a little banged up coming off the recent football season, and junior Jozsiah Varga-Flynn, both of whom could scrap their way to a state tournament berth given the qualification rules instituted prior to the 2020-21 season.
"We have Matt Gatto. We've got a few like Jozsiah, a few guys that have been around for awhile that we're looking to to kind of lead this team and be the example for guys to look to," Rodgers said.
"I'm really excited about the fact that top three go to states this year. I think we can definitely get a couple people in there. Expectations aren't low. We still think we can win a lot and develop our younger guys."
The Indians' schedule will include more individual tournaments this season.
"We are going to one dual meet tournament," Rodgers said. "We have our eight duels that we always have, but mostly individual tournaments.
"We're missing a few lighter weights. We don't have a heavyweight currently. We're trying to fix that. With a young team, we're just trying to get some mat time."
The Indians begin the season Dec. 2 at home against Chenango Forks.
——————
NOTES:
Owego continues to bolster its coaching ranks with a Newark Valley connection. In addition to former Cardinal assistant coach Rob Zetzsche, former NV standouts Derek Holcomb and Giano Silba are on the staff. This is Holcomb's fourth season at Owego, Silba's first.
——————
PHOTOS BY TIM TAYLOR.