STAC GIRLS BASKETBALL: OWEGO LOOKS TO REMAIN COMPETITIVE
(2021-11-16)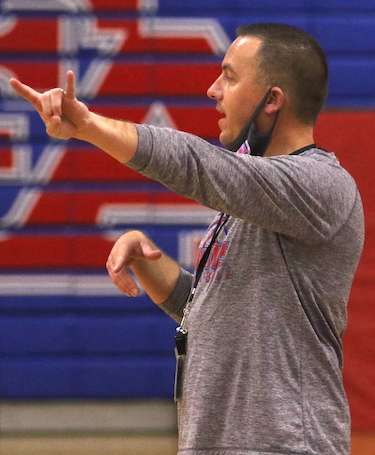 By TIM TAYLOR
Tioga County Sports Report
OWEGO — Just what's in store for the Owego girls basketball team, which has sent its top player the past two seasons on to play at the NCAA Division I level?
"I think what we're seeing, it'll be interesting," Owego coach Luke McEvoy said. "I've gotten this question a lot. Off of last year's COVID year, I'm intrigued to see what we actually look like in a more normal situation, back in the STAC with a full-on schedule, full practices. We've got a nice group of girls that have a lot of potential and we'll see if we can put all those pieces together build on kind of a new era of things.
"(We're) moving off of a couple of those players that have carried us the last couple of years, but these girls have learned from them and it's a matter of them stepping up and taking the reins now."
The Indians have a solid returning nucleus for McEvoy to build with, but this season's squad will not revolve around a D1 prospect.
"I appreciate the girls that are back and they have a lot of potential, like I said," McEvoy said. "It'll be interesting, if we can put the different pieces together. We've got to do the right thing on the defensive end of the floor that will hopefully lead us to some good offensive opportunities and utilize the different bodies that we have.
"We've got girls that have some different skill sets. I think that we won't necessarily be kind of like pigeonholed into doing certain things. I think we can do some different things. As long as they all step up and live up to their potential, I think we'll be in a good spot."
Owego opens the season Dec. 4 at home against Union-Endicott at the 1st annual Charlie Sibley Memorial Basketball Tournament.
——————
NOTES:
Riding the D1 wave, the Indians sent Kaci Donovan to Penn State two years ago and Evee Coleman to Binghamton University following the truncated 2020-21 campaign.
Donovan has since transferred to Monmouth University. The three-time all-state pick set six school records at Owego, including career points (1,974).
Coleman, a two-time all-state pick and 1,000-point scorer at Owego, averaged 10 points, six rebounds and 1 1/2 blocks as the Bearcats opened the season with a pair of victories. Her effort earned her the America East Conference Rookie of the Week honor.
——————
PHOTOS BY TIM TAYLOR.