ON TAP TODAY: STAC CHAMPIONSHIP EVENTS EARN THE SPOTLIGHT
(2021-10-12)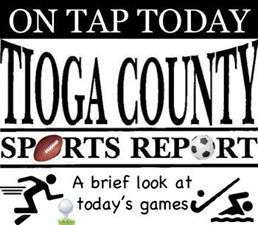 Tioga County Sports Report
TIOGA COUNTY — The STAC Boys Golf Championship and STAC Metro Cross Country Championships earn the spotlight among today's schedule of events.
BOYS GOLF
Owego at STAC championship at Mark Twain Golf Course (Elmira), 9 a.m.:
The Indians are taking four competitors to Elmira to compete for STAC honors.
CROSS COUNTRY
Owego at STAC Metro championships at Owego, 5 p.m.:
Keep your eyes on Indian 8th-grader Jaelyn Chrysler, who has been running near the front of the field all season long.
BOYS SOCCER
Newark Valley at Trumansburg, 7 p.m.
SVEC at Watkins Glen, 7 p.m.
FIELD HOCKEY
Newark Valley at Walton, 4:30 p.m.
SVEC at Owego, 7 p.m.
GIRLS SOCCER
Whitney Point at Newark Valley, 4:30 p.m.
GIRLS SWIMMING & DIVING
Owego at Susquehanna Valley, 5:30 p.m.