ON TAP TODAY: KEY EVENTS HIGHLIGHT SCHEDULE
(2021-10-08)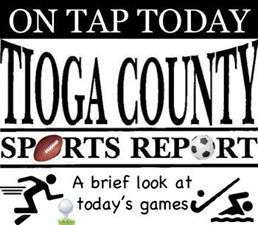 Tioga County Sports Report
TIOGA COUNTY — Some key events highlight the day's schedule. Among them are a gridiron clash between state-ranked rivals Newark Valley and Tioga and a volleyball battle between Candor and Tioga.
CROSS COUNTRY
Owego, Newark Valley, SVEC at Bob Greene / Newark Valley Invitational, 4 p.m.:
The Indians, Cardinals and Eagles, along with Waverly, will have one final chance to compete against one another before the postseason begins.
FOOTBALL
Newark Valley (3-1, 2-1 Div. VI) at Tioga (4-0, 3-0 Div. VI), 7 p.m.:
This is a must-win game for the Cardinals if they hope to have shot at capturing the division title. The Cardinals are ranked 15th in this week's Class D state poll while Tioga has been No. 1 the past two weeks. NV spoiled Tioga's bid for an undefeated spring season with a late rally in their previous meeting.
GIRLS SOCCER
Newark Valley (7-3) at Elmira Notre Dame (7-0-2), 5:30 p.m.:
The Cardinals could use a win against the state-ranked Crusaders to better their sectional seeding.
Seton Catholic (3-8) at Owego (7-2-1), 7 p.m.:
The Indians are ranked 20th in the state in Class B and have two games left before sectionals.
Waverly at SVEC, 4:30 p.m.:
The Eagles honor their seniors in their final home game of the season.
VOLLEYBALL
Newark Valley at Edison, 5:45 p.m.:
The Cardinals need a win against the Spartans if they hope to repeat as IAC South Large School champions.
Tioga at Candor, 6:30 p.m.:
The Tigers won a 5-set thriller early in the season and the rematch is expected to be another thriller between the rivals.
Waverly at S-VE, 7 p.m.:
The Wolverines rallied from two sets down to defeat S-VE when they met in early September.