ON TAP TODAY: TRIO OF BOYS SOCCER MATCHES HIGHLIGHT SCHEDULE
(2021-10-07)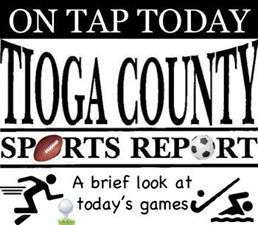 Tioga County Sports Report
TIOGA COUNTY — A trio of boys soccer matches are among the seven sporting events involving Tioga County teams.
BOYS GOLF
Owego at Seton Catholic (9-2), 4 p.m.:
The Indians head to Traditions at the Glen to face the Saints in the regular season finale.
BOYS SOCCER
Newfield (7-2) at SVEC (7-3), 7 p.m.:
The Eagles will recognize their seniors.
Tioga at Newark Valley (3-3-2), 5 p.m.:
The Cardinals are coming off a 4-0 loss to Waverly.
Owego (8-2-1) at Seton Catholic (4-7-1), 7:30 p.m.:
It's the regular season finale for the Indians, who defeated the Saints in their previous meeting.
FIELD HOCKEY
Marathon at Owego (3-7), 7 p.m.:
The Indians play their next to last game under the lights.
Windsor (7-5) at Newark Valley (8-3), 4:30 p.m..:
The Black Knights won when the two teams last met early in the season.
VOLLEYBALL
Susquehanna Valley (0-9) at Owego (7-1), 6:30 p.m.:
The Indians swept their previous match.