STAC TRACK & FIELD: OWEGO TEAMS SPLIT WITH U-E, SETON CATHOLIC
(2021-06-02)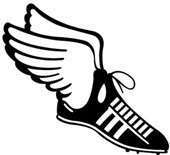 Tioga County Sports Report
ENDICOTT — Owego's Gus Cantella was a double winner while some of his teammates had impressive efforts as well in a tri-meet with U-E and Seton Catholic here Tuesday.
Lilly Bouten moved up from ninth to seventh on the school's all-time list in girls shot put with a heave of 30-3.
Jaelyn Chrysler broke five minutes in the 1500-meter run, moving her up to fourth all time at OFA from sixth. She also improved her 800 time to 2:30.14 to move up one spot to ninth.
Sophomore Gabe Snyder cleared 10 feet in the pole vault and is showing promise to break into the top 10 with 12 inches more.
U-E won the boys meet with 102.5 points to Owego's 34.5 and Seton's four. The Tigers took the girls win with 95 points. Owego had 25 and Seton had seven.
BOYS
Cantella won the 100 with a time of 11.9 seconds and the 200 in 26.2 seconds. He was also second in the triple jump with a leap of 32-6.
Jimmy McDonald clocked 2:20.8 to take the 800.
Seth Chandler won the discus with a throw of 98-1.
Snyder's vault of 10 feet was good for first place.
Hunter Ellis placed second in the high jump, clearing 5-2.
GIRLS
Chrysler finished first in the 800 in 2:29.9 and second in the 1500 with a 4:58.6.
Bouton took the shot put and was second in the discus with a toss of 74-6.
Maggie Huizinga won the 400 hurdles, posting a time of 1:24.9, and was the runner-up in the high jump at 4-6.
Owego competes in the Section IV Class B meet at Vestal June 9.