STAC TENNIS: OWEGO FINALLY RETURNS TO THE COURT
(2021-05-06)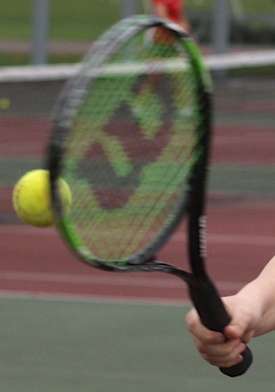 Tioga County Sports Report
ENDICOTT — COVID-19 and Mother Nature have silenced the Owego tennis racquets no more.
The Indians' boys and girls teams finally played their 2020-21 season openers here Thursday after three previous dates had been postponed due to adverse weather conditions — and that was on top of the the coronavirus pandemic delays. The boys had been out of action since the spring of 2019 and the girls hadn't played since the fall 2019 season.
This year, the league is playing boys and girls matches in the same season. U-E won the boys match, 5-0, and the girls, 6-1, but the youthful Owego squads are glad to be back on the court.
"All of our girls doubles teams are brand new to tennis, as is my No. 2 doubles team on the boys," coach Erica Haray said. "Very proud of them for joining the team this year and learning a new sport!"
GIRLS
Rachael Wood was Owego's lone winner, taking a 7-2 tie-breaker in a 9-8 duel at first singles.
Alice Dang went to a tie-breaker at fourth singles as well and, in another 9-8 battle, fell by a 7-5 verdict.
At second singles, Carmen Jorgensen lost, 9-4, and at third singles, Zoe Zachary lost, 9-1.
In doubles competition, the No. 1 duo of Taylor Pierce and Holly Kersten fell, 9-0, the No. 2 pairing of Allison Welch and Ashleigh Gault, lost, 9-3, and at third doubles, Madison Allen and Mia Jones lost, 9-0.
Allie Shoen dropped a 9-7 heartbreaker in exhibition singles.
"Rachael Wood played for the first time at No. 1 singles and won in a tie-breaker," Haray said. "Carmen Jorgensen played in her first ever tennis match today at No. 2 singles and had an impressive score against an experienced player.  Alice Dang played in her first ever tennis match at No. 4 singles and lost by two points in a tie-breaker.  Zoe Zachary is a returner who stepped up to play in her first-ever singles match today."
BOYS
At first single, Josh Snyder dropped a 9-6 decision while Jonathon Davis fell, 9-5, at second singles and at third singles, Eli Martin lost, 9-0.
In doubles matches, the top pair of Aden Dinkins and Damien Allen lost, 9-12, and the No. 2 tandem of Dan Pawlak and Tobbe Welty fell, 9-0.
"Josh Snyder had a strong No. 1 singles match today, and Jonathon Davis played in his first singles match and won five straight games to end at 5-9," Haray said. "Eli Martin is a returner who played in his first ever singles match."
Owego travels to Windsor Monday.