THE WEEK AHEAD: SECTION IV BOYS SWIMMING & DIVING CHAMPIONSHIPS HEADLINE THE ACTION
(2021-02-21)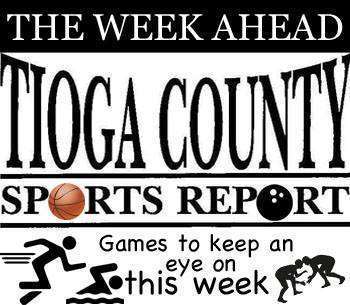 Tioga County Sports Report
TIOGA COUNTY — The Section IV Boys Swimming & Diving Championships highlight the week's activities.
Here's a look at this week's schedule.
MONDAY (2)
• Candor boys basketball hosts Watkins Glen.
• The Newark Valley girls basketball steps up two classes face AA Elmira on the road.
TUESDAY (3)
• Newark Valley boys basketball visits Owego.
• The girls basketball schedule sends Candor to S-VE and Owego to Newark Valley.
WEDNESDAY (3)
• Newark Valley boys basketball travels to Waverly.
• Owego wrestling heads to SVEC and Newark Valley wrestling hosts Odessa-Montour.
THURSDAY (5)
• Newark Valley girls basketball hosts Tioga, Owego entertains Candor and S-VE visits Edison.
• Newark Valley boys basketball heads to Tioga while Candor hosts Owego.
FRIDAY (2)
• Owego will compete virtually from their own pool in the sectional championships.
• Newark Valley visits Waverly in wrestling.
SATURDAY (9)
• In boys basketball, Candor heads to Owego, Tioga visits Newark Valley and S-VE goes to Edison.
• On the girls hardwoods, Owego visits Candor, Newark Valley travels to Tioga and S-VE hosts Edison.
• In wrestling, Owego visits Odessa-Montour / Watkins Glen, Newark Valley hosts Tioga, and SVEC and Corning go to Waverly.