ON TAP TODAY: FIVE LOCAL TEAMS ARE IN ACTION
(2021-02-20)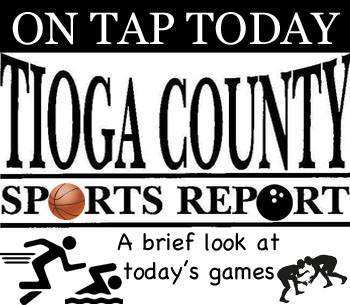 Tioga County Sports Report
TIOGA COUNTY — The Newark Valley wrestling team opens the season at Edison in a tri-meet. In basketball, the Candor boys, and NV and Owego girls are in action.
BOYS BASKETBALL
Candor (2-2) at Watkins Glen (3-0), 11 a.m.:
The Indians are coming off a win Wednesday over Tioga while WG routed Notre Dame Friday night.
GIRLS BASKETBALL
Newark Valley (1-1) at Owego (2-1), 1:15 p.m.:
Both teams are coming off recent losses, NV to Waverly and the Indians against Horseheads.
WRESTLING
Newark Valley (0-0), SVEC (0-1) at Edison (0-1), 10 a.m.:
It's the season opener for the Cardinals while SVEC gave up seven forfeits in a 42-36 loss to Odessa-Montour. The host Spartans fell to Owego, 31-30, on tie-breaker criteria.