TAYLOR MADE: ADJUSTING TO A UNIQUE ERA
(2021-02-19)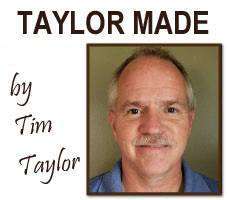 The high-risk sports (basketball, competitive cheer, ice hockey, wrestling) are underway and let me tell you, it's been an interesting situation (as it was with bowling and swimming).
Over the years I watched numerous wrestlers frequently adjust their headgear (usually because they don't have it properly adjusted to fit their head), but in the two matches I've covered this season there has been very little headgear adjusting going on as grapplers are now spending more time fixing the face masks they're required to wear (I think I saw it happen at least 25 times Wednesday evening).
You no longer see the referee raise the winner's hand. (if you look at photo No. 2 you can see what happens after a wrestler wins a match — referee Dave Kreider instructing Owego's Matt Gatto to raise his hand to after accepting a forfeit).
There are no concession stands at events (boy has that saved this bachelor a few bucks) and there are no (or very few) fans in the stands. Heck, S-VE won't even allow media in the gym.
I don't know if it's Owego's intention, but the school has attempted to make the athletes feel at ease by having a public address announcer present at events, as well as cheerleaders at basketball games.
Another interesting aspect of the return of high-risk sports is that there are currently no cheer competitions scheduled (Newark Valley, Owego, S-VE and Waverly had competition squads last year).
I've included a few cheerleading photos from a Newark Valley practice and Owego basketball games. These girls may not get to compete or entertain the fans, but they are working hard to be the best at their sport — and deserve a little recognition.
And that's another thing that torques me. Why aren't the governing bodies like Section IV and the New York State Public High School Athletic Association organizing virtual championships in sports where it's possible to have them?
Section IV is holding virtual boys swimming and diving championships next weekend (Owego competes in its pool at 6 p.m.), but why are they and STAC not holding virtual bowling championships? The IAC was able to do it.
Out of the 28 sports offered in New York state there are several in which a postseason could be held virtually. Bowling, competitive cheer, gymnastics, outdoor track & field, and swimming & diving could be held at every school which has a team. And, with a little coordination with other resources, I feel that cross country, golf, indoor track & field and skiing could be held virtually as well.
As for fall and winter sports, most of the people I've talked with agree that Section IV dropped the ball by postponing sports until 2021. Furthermore, only eight states and the District of Columbia did not hold fall sports seasons in 2020. By the way, New York was not one of them as the decision to postpone or cancel fall sports was left up to individual sections (7 of the 11 participated in the fall).
Of the high-risk sports, football was postponed until winter / spring in 22 states and DC, the rest went ahead and played in the fall. And some offered options for fall or winter / spring seasons.
New York and Minnesota will have the shortest seasons, just six weeks, while a final decision has not been made in Illinois and Maine. Vermont, which has just 30 teams, opted to forego tackle football for a 7-on-7 two-hand touch format. In Colorado, 218 schools played in the fall and 58 have elected to play this spring.
Only 15 states and DC did not play volleyball last fall, and New York was the only state to change the National Federation of High Schools classification to high-risk.
In medical terms, volleyball is considered a limited-contact sport (contact with other athletes or with inanimate objects is infrequent or inadvertent). Football is considered a collision sport (athletes purposely hit or collide with each other or with inanimate objects with great force. Basketball is listed as a contact sport (athletes routinely make contact with each other or with inanimate objects, but usually with less force than in collision sports).
In scholastic terminology, sports are typically referred to as full-contact (football), limited-contact (basketball & volleyball) and non-contact. Anyone who follows high school athletics should be able to easily determine which categories the various sports fall into.
So, I ask you, why does New York consider all three of these sports as equally dangerous as far as the threat of spreading the coronavirus goes? I asked a medical professional who couldn't explain it, but suggested the state health department and the governor don't have their heads in the right place.
For me, adjusting to this unique era meant adapting to new jobs, changing my sleep hours and, like so many of you, going 10 months without my usual sports routine to follow.
However, I'm back, the athletes are back — and hopefully some type of normalcy will be back soon.