TAYLOR MADE: GETTING BACK IN THE GROOVE
(2021-02-01)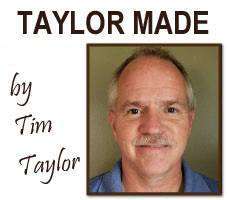 Today (Monday) was supposed to be the next step in returning to this website on a full-time basis, but Mother Nature messed that up with this latest winter storm.
Since getting laid off last March, I've spent most my time waking up early in the morning instead of going to bed early in the morning to head to a job at the CVS Distribution Center in Chemung.
Over those past five-plus months, I've come to learn that warehouse work takes both mental and physical strength. I put in a lot of 10-hour days there and I tip my hat to those people who can handle the workload — and the long hours — day after day after day. They have my utmost respect.
I also made a few new friends there, but I've got to tell you, I am so glad to get back to what I've been doing for the majority of my adult life.
As for the website, when bowling and boys swimming started up in early January, I began putting in a few hours on the site each week. This week, I'm increasing my hours on the site while cutting back on the hours at CVS. Finally, on Feb. 8, I will be devoting all my working hours to the website.
This week, weather permitting, I will be heading out to the schools to photograph practices and interview coaches of the high-risk winter sports which were recently given the OK to start up. Honestly, I was beginning to worry we would not see any high-risk sports this school year. 
I could sit here and bash the powers that be for being paranoid fools in shutting down New York state high school athletics the way they have, but I won't.

However, I will make note of the fact many other states went ahead with fall and winter sports, and had minimal coronavirus issues — something I hope our leaders have been paying close attention to.  

With that said, we can all do our part to keep sports safe for our athletes.

There's a phrase the high school baseball players use when the batter is about to get hit by a pitch — WEAR IT!

Guess what? That phrase goes for the mask too. If you are anywhere which requires you to wear a mask, WEAR IT! Don't strike out and risk infecting one of our athletes. You don't have to be in direct contact with the athlete to make them sick.

Don't have a big Super Bowl party this weekend. If you go out in public, wear the mask, please! You don't have to shutter yourself up inside your house. You just have to be smart when you are around others.

Finally, I want to address the coaches. There are going to be a lot of people who will be disappointed because of the restrictions surrounding attendance at sporting events. Many fans will be looking to the media to provide them with event coverage so they can continue to follow their favorite athletes and / or teams. You are the key to ensuring the readers stay up to date by working with me to get results on the site in a timely fashion.

Between us we can keep the Tioga County Sports Report readership up to date and informed.