TAYLOR MADE: COVID-19 — THE COUSIN EDDIE OF 2020 (AND 2021 FOR THAT MATTER)
(2021-01-11)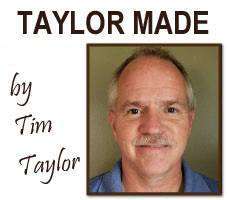 COVID-19 has become the Cousin Eddie from
National Lampoon's Vacation
film series. It just won't go away.
The first attempt to get interscholastic athletics back on track in Tioga County hit a bump in the road Monday. Due to an increase of more than 100 cases of the coronavirus in Chenango County over the weekend, Norwich's trip to Owego for a STAC inter-divisional bowling match had to be postponed.
The Indians will now wait until Wednesday to hopefully start their season at Chenango Forks. Owego will not bowl at home (Owego Bowl) again until Jan. 25 against Susquehanna Valley.
The other four Tioga County teams will steal the spotlight Tuesday with Candor taking on Newark Valley in a virtual match while Tioga and Waverly meet at Valley Bowling Center. Apparently, the latter two will bowl at separate ends of the house.
The Candor girls are the defending IAC Division 2 (Small School) champs while Tioga took the crown on the boys' side. The Newark Valley boys were runners-up to Waverly in Division 1 (Large Schools) and the Wolverine ladies were second to Union Springs / Port Byron.
Boys swimming and diving is expected to make its return Friday when Owego hosts Chenango Forks. The Blue Devils boast 27 competitors while the Indians' youthful roster numbers just 10.
Indoor track & field has been cleared to resume as well, but I heard over the weekend that Waverly is not competing in any meets.
Meanwhile, the basketball, wrestling and competitive cheer teams continue to be slighted by the governor and the state health department.
Owego hoop star Evee Coleman, bound for Binghamton University, made the
Binghamton Press & Sun-Bulletin
list of "12 Binghamton-area athletes we hope to follow in 2021" while classmate Cam Bundy lost his shot at a state wrestling title when the winter state championships were canceled. A bronze medalist last season, he had a legitimate shot at the top of the podium this year.
Being a wrestling guy (47 years on or around the mats), there is one young athlete I really feel for. Tioga's Gianni Silvestri, the defending NYSPHSAA Division II 99-pound wrestling champion, was all set up this season to continue his quest to join the ranks of the state's 5-time champions — and the first to do it all in the very competitive Division II. He can still win four.
Chenango Forks' Troy Nickerson was the first to accomplish the feat, winning three crowns when states was a single-division tournament and his last two in Division I. The other five-time champs, Long Beach's Jacori Teemer, Adam Busiello from Eastport-South Manor, and Hilton's Greg Diakomohalis all won at the D-1 level.
Tioga will also miss out on an opportunity to three-peat on the state mats and several other Tiger grapplers will not have an opportunity to return to the podium. With the new state qualification rules this season, there were several Newark Valley, Owego and SVEC wrestlers primed to earn spots in the state tournament.
I expected NV's girls basketball and competitive cheer squads to be potential Section IV champions this winter but, alas, they too have been bamboozled by the powers that be. There are also a few Tioga County bowlers with state-qualifying potential who have been denied a trip to states.
Let us not forget the fall athletes who were cheated out of a possible state championship or playoff experience due the pandemic. The teams include Candor volleyball's state champs, Owego volleyball (which makes a consistent run as a state contender every year), Tioga football (a multi-time state semifinalist), Owego's three-time defending Section IV boys cross country champs (not to mention the individual qualifiers from Newark Valley, Owego, SVEC and Waverly).
Cross your fingers, clutch your lucky rabbit's foot, make a wish on a star — whatever you do when you need a little help — and hope we can salvage something for our spring athletes. Remember, they were the first to go without a season when this whole mess started.
And give "Cousin Eddie" a swift kick in the pants while you're at it!