TAYLOR MADE: NOT ALWAYS ABOUT THE ATHLETE
(2020-10-27)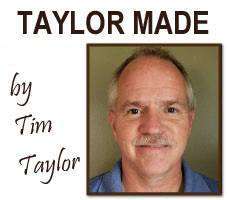 Anyone who followed Tioga athletics in the 1970s or '80s should recall the name Keene. After all, there were six of them involved in something like eight different sports at the tiny Tioga County school.
The Keene family boasted the Tigers' first-ever state place-winner in wrestling star Dan (two-time top 5 when there was only one state tournament) and arguably the best catcher to come out of this area in David.
However, the family boasted something even bigger than those accomplishments. The parents, Ed and Carol, developed an incredible support system for their children and numerous other athletes at Tioga. I was fortunate to be one of those "other athletes."
The Keene household became a haven for teens to go hang out at — they welcomed one and all. I even had an opportunity to assist a few of the Keene ladies in working on a quilt.
Anyway, the Keene support system didn't end when their children graduated high school. It was strongly reinforced when they had grandchildren competing locally at schools in both New York and Pennsylvania.
I'm sure that every school district in Tioga County has had supporters like Carol and Ed among their ranks, but with her passing last weekend (Ed passed away a few years ago), I truly realized the very important role our families and fans play in the lives of young athletes.
During my years as a high school athlete, I was lucky enough to have the support of my family, especially my mother. I was also fortunate to have the Keenes (along with other families) in my corner at my wrestling matches.
Most athletic teams recognize the parents during the season, but I have yet to see one team in my 33-year sports writing career that honors grandparents. I know for a fact that there are numerous grandmas and grandpas attending sporting events in Tioga County, and an overwhelming number of them go unrecognized.
I am calling on every sport in every school district in the county to institute a "Grandparents Recognition" game. Answer the challenge and let's do this Tioga County!