YOUTH BASKETBALL: SOUTHERN TIER HAWKS COACH HOSTING SECOND FALL SESSION OF BASKETBALL WORKOUTS
(2020-10-19)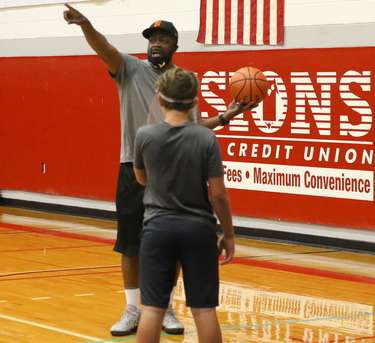 Tioga County Sports Report
BINGHAMTON — Southern Tier Hawks AAU coach Reggie Hawkins and "The Workshop" present Fall Session #2 Basketball Workouts here from Oct. 27 through Nov. 25 at the St. Mary's Rec. Center.
It's five weeks of workouts for $200. All the workouts will be held on Tuesdays and Thursday.
The Middle School age group, which will be a co-ed group, will be in action from 5 to 6 p.m., while the high school girls will be on the floor from 6:15 to 7:15 p.m., and the high school boys will work out from 7:30 to 8:30 p.m.
Questions can be directed to Reggie Hawkins at (607) 240-6587, or via e-mail at regishawk6@yahoo.com.
Interested parties can register at
www.southerntierhawksaau.com
. Pre-register by Oct. 22 for the early-bird special price of $175 by contacting coach Reggie Hawkins.
The workouts adhere strictly to the New York State Covid-19 guidelines, including masks, sanitary stations, and the use of your own basketball.
Due to Covid-19 restrictions, space is extremely limited. First-come, first-serve.