TAYLOR MADE: LIFE PRESSES ON AMID COVID CONCERNS
(2020-10-18)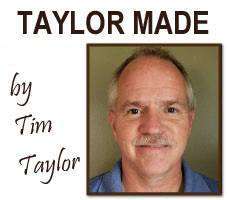 In Pennsylvania's Northern Tier League, Northeast Bradford and Sayre, both of which border Tioga County, have had athletic events postponed due the coronavirus pandemic. However, fall sports seasons continue to be played and late last month the Pennsylvania Interscholastic Athletic Association also approved playoffs.
Newton High School in New Jersey was scheduled to open the football season against Kittatinny Regional High School Oct. 3, but a player tested positive for COVID-19. That game was not rescheduled. The team's Week 2 game was not played as scheduled, but was postponed two weeks.
Both New Jersey and Pennsylvania, which border New York state, as well as Vermont, decided to go with full fall athletic seasons despite COVID concerns. Connecticut and Massachusetts, which also border New York, are playing all fall sports except football.
It's discouraging enough that every state which borders New York is having fall sports seasons, but even more disappointing that three of Section IV's four in-state neighbors are playing fall sports, with the exception of competitive cheerleading, football and volleyball. Section II, Section III and Section V are participating in fall sports — only Section IX to the southeast has postponed.
In addition to Section IV and Section IX, Long Island's Section VIII and Section XI also voted to go with the New York State Public High School Athletic Association's condensed seasons plan, meaning the majority of the state chose to start fall sports on Sept. 21.
Other factors in Section IV's decision to postpone fall sports are the governor's budget cuts and travel (i.e., the number of individuals allowed to ride a bus).
Winter sports will be allowed to begin practices Nov. 30, but the recent rise in COVID-19 cases could affect that situation. Meanwhile, the state health department will need to determine whether or not the high-risk sports of football, volleyball and competitive cheerleading will move ahead with a March 1 start date.
New York recently canceled its federation state championships in cross country (NYSPHSAA had already canceled public school regional and state championships in all fall sports). Winter and spring regionals and state championships are still on the agenda, but are subject to change.
Actually, there's no guarantee there will be condensed seasons in 2021 due to concerns with the upcoming flu season and its effect on the pandemic.
——————
National Outlook
Only 14 states are playing their original high school fall sports schedules due to the coronavirus pandemic. Four states — California, Nevada, Oregon and Washington — have opted out of fall sports all together and the rest are playing altered or delayed schedules.
Numerous club sports have been postponed or canceled due to COVID-19.
At the collegiate level, more than 300 programs which are members of the NCAA, NAIA and NJCAA have since been dropped or suspended, according to Next College Student Athlete.
This has affected the recruiting process as in-person recruiting, college visits, camps and tournaments have been placed on hold. The NCAA has suspended in-person recruiting until, Jan. 1. Fortunately, in today's high-tech age, a lot of recruiting can be accomplished digitally.
One helpful tool student-athletes, coaches and parents can use in dealing with the college recruiting process is the Next College Student Athlete website,
ncsasports.org.
——————
Side Notes
• A shout out to Candor junior Shelby Swartz. As a member of the NYSPHSAA Student-Athlete Advisory Committee, she's one of several student-athletes who performed a public service announcement about masking up during the COVID-19 pandemic.
You can watch the PSA at https://twitter.com/NYSPHSAA/status/1317843068477988864.
• Beginning this week, ESPN Ithaca will honor some of the top teams from the past 10 years with a week of content dedicated to their standout team of the decade. Candor, Newark Valley and Spencer-Van Etten are among the 15 schools being recognized.
Check out the schedule at https://www.espnithaca.com/teams-of-the-decade.
• NYSPHSAA is accepting bids for the girls golf state championships from 2022 to 2024. I would love to see one of the Tioga County courses, or at least a Section IV course, host this event. New York has some pretty impressive young ladies swinging the clubs.
Here's the link to make a bid: http://nysphsaa.org/Portals/0/PDF/RFPs/Girls%20Golf%20RFP%202022-24.pdf.