TAYLOR MADE: CRAZY 2020 CONTINUES TO SPIN OUT OF CONTROL
(0202-09-19)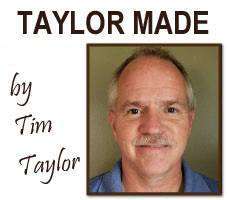 It's been a whacky whirlwind of activity in the world of New York state high school athletics in recent weeks. It doesn't appear that things will get better for student-athletes in the near future, but here's a few highlights of recent developments.
• Fall sports were to begin Sept. 21, but football, volleyball and competitive cheer were only allowed to practice, and not participate in actual competition.
• The New York State Public High School Athletic Association decided football, volleyball and competitive cheer would be postponed until March 1. These sports would overlap with other sports seasons, but from what I understand, athletes will be allowed to participate in multiple sports.
• Erroneous reports spread throughout the area that the Interscholastic Athletic Conference had voted Sept. 11 to postpone ALL sports until March 1. It turned out the IAC's decision at the time involved fall sports only. By the way, Waverly was the only Tioga County school to vote in opposition to the league's call for a postponement.
• Right after the IAC vote, the Southern Tier Athletic Conference decided to postpone fall sports as well.
• On Wednesday, Section IV voted to go to the Condensed Seasons Plan (see the bottom of this editorial). The sectional representatives voted overwhelmingly, 59-10 (with 1 abstention), to postpone.
• Oneonta and Norwich announced earlier they would not participate in fall sports while the combined Watkins Glen / Odessa-Montour canceled the football season due to COVID-19 and budget concerns. Nassau County (Section VIII) on Long Island was the first New York state area to postpone sports until 2021.
• Pennsylvania (that would be the state directly below us on the map) decided to go ahead and play fall sports. Apparently, the pandemic isn't as bad that far south, however, Friday's Athens-Canton football game was postponed because a player may have been exposed to COVID-19.
——————
I guess I can consider myself fortunate in the fact I have been able to cover two PA football games for our new sister site,
Northern Tier Sports Report,
which recently launched and covers a handful of Northern Tier League schools. I also had the pleasure of covering one Nichols-Tioga Little League game and had an opportunity to photograph my nephew, Conlan, playing for the Elmira Elite in a travel baseball game.
However, I am on my second job since the pandemic basically forced my layoff from the website — despite the owner's best efforts to keep me in the loop. The upside of that is both jobs have involved continuous physical labor — and I must admit I am in better shape and have lost weight. It didn't take me long to realize carrying a camera around at sporting events isn't all that strenuous.
As far as what's going on in today's New York state sports scene, the powers have heeded a request from the New York State Council of School Superintendents for a "delay in school athletics until Jan. 1" (as far as I know, winter sports practices will still start Nov. 30) In a nutshell, the argument is that if students-athletes can't attend school in-person full-time, then why should they be allowed to participate in athletics full-time — and yes, that is a valid point.
However, through Sept. 7, more than 1,000 high school football games have been played nationwide — with zero reports of community COVID spread, according to
footballscoop.com.
That led me to prepare to write something last weekend about the high-risk sports seasons being postponed until March, but that came before the IAC announcement debacle.
With all that said, I would like to extend my gratitude to the coaches who responded to my request for their thoughts on the high-risk sports being postponed until March. Therefore, I will include those comments below. It should be noted that some coaches have been directed not to discuss COVID-19 issues at this time.
——————
Ted Hardenstine, Newark Valley football
"I'm excited that there is a decision about football. In a perfect world, we would have started playing football on August 21st and had a full season. However, the reality is that we already had a full month delay to the start of the season.
"Additionally, we would have had to wait for the governor to approve both the start of contact practices and the scheduling of games. If we would have attempted to start on Sept. 21, I'm not confident our kids would have an opportunity for any games.
"Although our players were predictably disappointed that the football season was delayed, they were also excited about the likelihood of being able to do some offseason work as a team later this fall, as well as now having a possibility of some post-season games. "
Mike Chaffee, SVEC football
"I am extremely disappointed by the decision to not let us play football this fall. I am grateful that we will have an opportunity to play in March, but it will look nothing like playing in the fall. It will be a shortened season with no end goal in sight.
"We will also be overlapping the spring season by two weeks. I feel bad for our kids that have been strung along waiting for the opportunity to play just to have the rug pulled out from underneath them. Our kids are eager to play and get to work, but are being held back and it's not fair to them.
"Hopefully we will at least be able to start low impact training this fall."
Pam Quinlan, Candor volleyball
"Although I know my girls are eager to get back on the court, I also know that they thrive on competition. The idea of having a season that only consisted of practices was not very enticing and with so many unknowns, this was a real possibility.
"There is, of course, concern with overlaps with other sports, which hopefully will work itself out as time progresses. I am hopeful that we will be able to get back to some organized play with our players sooner than later. Not really sure what other options there are at this point. "
Kelsey O'Donnell, Newark Valley volleyball
"I am excited and optimistic for a March 1 start date. It gives both the athletes and coaches a chance to ease into the school year without the added pressure of how the volleyball season will work.
"Hopefully by March, things will start to return to a sense of normalcy, and my players can get the season they so deserve."
——————
Here is the state's "Condensed Seasons Plan" released earlier this summer. The dates are tentative.
Season I (Winter Sports)

Dates: Jan. 4-March 13 (Week 27-36), 10 Weeks
Sports: basketball (girls & boys), bowling (girls & boys), gymnastics, ice hockey (girls & boys), indoor track & field (girls & boys), skiing (girls & boys), swimming (boys), wrestling, competitive cheer
NOTE:
Wrestling and competitive cheer could be moved to Season II or Season III.
Season II (Fall Sports)

Dates: March 1-May 8 (Week 35-44), 10 Weeks
Sports: football, cross country (girls & boys), field hockey, soccer (girls & boys), swimming (girls), volleyball (girls & boys), unified bowling
Season III (Spring Sports)

Dates: April 5-June 12 (Week 40-49), 10 Weeks
Sports: baseball, softball, golf (girls & boys), lacrosse (girls & boys), tennis (girls & boys), outdoor track & field (girls & boys), unified basketball
——————
PHOTOS 2-7: A few sights you won't see this fall. ... TCSR FILE PHOTO.