ON TAP TODAY: RAIN COULD AFFECT SCHEDULE
(2019-05-13)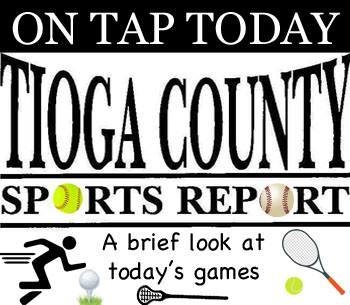 Tioga County Sports Report
TIOGA COUNTY — Rain is expected to wipe out at least half of the activities as steady rain and cold temperatures are being called for throughout the majority of the day.
BASEBALL
Owego (5-11) at Binghamton (2-13), 4:30 p.m.:
The Indians snapped an eight-game skid with a 6-1 upset of Johnson City last week. The Patriots have lost 10 in a row and fell to Owego, 14-13, in early April.
SOFTBALL
Owego (5-9) at Binghamton (0-11), 4:30 p.m.:
Owego is coming off a 4-3 upset of Johnson City while the Patriots have struggled to get into the win column.

S-VE (9-7) at Waverly (14-1), 4:30 p.m.:
The Panthers have won three straight, but will be facing the No. 2 team in Class B.
BOYS LACROSSE
Elmira (5-9) at Owego (8-6), 7 p.m.:
The Indians are coming off a lopsided win over U-E while the Express have dropped nine of their last 11 decisions.
GIRLS LACROSSE
Owego (4-10) at M-E (12-1), 5 p.m.:
The Indians honored their seniors with a heart-stopping overtime win against Whitney Point Friday. The Spartans beat Dryden by 10 last time out.
BOYS GOLF
Waverly (1-9) at SVEC (5-3), 4 p.m.:
The Eagles won over Notre Dame last time out while the Wolverines fell to undefeated Dryden.
TRACK & FIELD
Candor at Need for Speed Invitational (Johnson City), 4:30 p.m.:
The Indian boys will compete in the Need for Speed Invitational.
S-VE at Odessa-Montour, 4:15 p.m.:
The Panthers close out the regular season against the IAC South Small School champions.