ON TAP TODAY: KEY EVENTS HEADLINE BUSY SCHEDULE
(2019-10-07)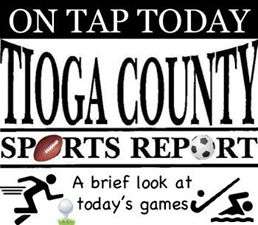 Tioga County Sports Report
TIOGA COUNTY — The week kicks off with a busy schedule — and some key match-ups.
They include a cross country meet, soccer and volleyball.
BOYS SOCCERBinghamton (0-9) at Owego (2-7-1), 7 p.m.:
The Indians went 1-2 last week, but were dominant in their win and battled hard in close losses.
SVEC (8-3) at Notre Dame, 5 p.m.:
The Eagles are coming off a tough 2-1 loss to Chenango Forks while ND has lost three in a row.
CROSS COUNTRYOwego at STAC Metro meet, 4:15 p.m.:
Owego heads to U-E's Ann G. McGuinness Elementary School for their divisional meet.
GIRLS SOCCERNewark Valley (7-3) at Waverly (9-1), 4:30 p.m.:
The Cardinals' lone setback in IAC South Large School play was a 4-1 setback against Waverly early in the season. NV has won five straight while Waverly is coming off a 7-0 drubbing of Notre Dame.
Notre Dame at SVEC (6-6), 4:30 p.m.:
An upset by the Eagles could help their postseason seeding possibilities.
VOLLEYBALLCandor (12-0) at Tioga (9-3), 5 p.m. JV start:
The Indians return to the scene of the crime — their last regular season loss came on the Tigers' court on Oct. 5, 2017.
S-VE (4-7) at Waverly (7-3), 5 p.m. JV start:
The Panthers continue to improve during a season overshadowed with injuries while the Wolverines are fighting to retain the IAC South Large School  title.