ON TAP TODAY: IAC WRESTLING GETS TOP BILLING
(2019-01-09)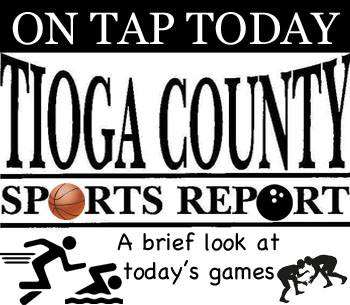 Tioga County Sports Report
TIOGA COUNTY - IAC wrestling takes center stage tonight with all four Tioga County teams in action.
Also on the agenda are Owego boys and girls basketball games.
WRESTLING
Dryden (8-4, 1-1) at SVEC (7-6, 2-0), 7 p.m.:
The Eagles continue their quest for an IAC Division I title and will be led by Mark Mullen (18-2), Dell Davis (17-5), Parker Sexton (18-6) and Ousmane Duncanson (16-6). Dryden has a trio of grapplers seeking win No. 20 - Cody Senecal, Bobby Brotherton and Samuel Dow. Dow and Sexton could square off in a 132-pound battle.
Whitney Point (5-10, 1-2) at Newark Valley (0-3, 0-3), 7 p.m.:
Unbeaten heavyweight Trentyn Rupert leads the under-manned Cardinals against WP. The Golden Eagles are led by Carter Stone at 220.
Waverly (6-10, 2-1) at Tioga (3-0, 1-0), 7 p.m.:
The Tigers are loaded this season with seven members having won at least 75 percent of their matches. The potential marquee bout of the night comes at 145 pounds, where the Wolverines' Ethan Stotler (21-4) could face Tioga's Austin Lamb (22-1).
BOYS BASKETBALL
Owego (8-1, 4-1) at M-E (7-2, 5-0), 5 p.m. JV start:
The Indians will be looking to take over the STAC Metro lead. The Spartans are coming off a 74-68 victory over Johnson City two days ago.
GIRLS BASKETBALL
Notre Dame (5-4) at Owego (10-0), 5:30 p.m. JV start:
The Crusaders are a little down this season and will face a stiff challenge in Owego's double-digit trio of Kaci Donovan (27.8 points per game), Evee Coleman (16.3) and Anna Felice (14.2).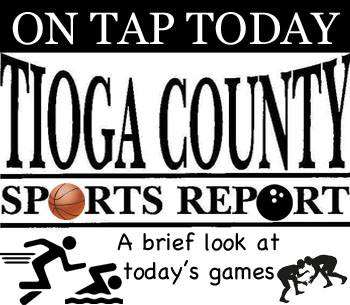 Print Friendly Version